Roland FP-90
Brand: Roland
Model: FP 90
Xuất xứ: Nhật Bản
Màu sắc: Trắng, Đen
Sản phẩm bao gồm: Đàn + Ghế + Khăn phủ
Đàn piano Roland FP 90
Đàn piano điện Roland FP 90 sở hữu công nghệ mới nhất và các tính năng tiết kiệm thời gian cho các nhạc công bận rộn. Mặc dù đó là một cây đàn piano di động, FP 90 vẫn sẽ rất lý tưởng khi bạn đặt cố định trong nhà, đặc biệt là khi kết hợp với chân đứng tùy chọn KSC-90 và pedal KPD-90 với dáng hình mới mẻ, hiện đại.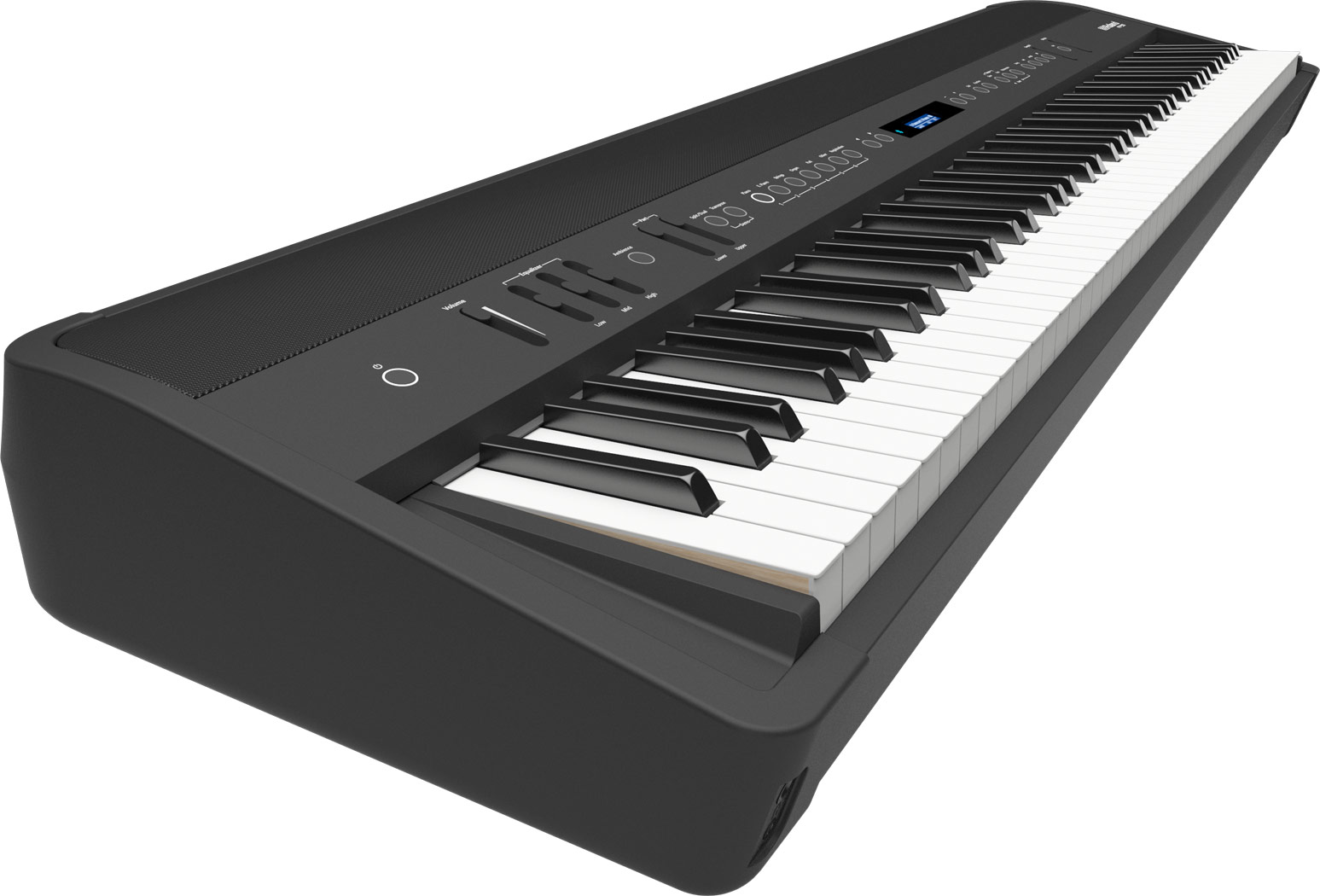 Tính năng nổi bật đàn piano điện Roland FP 90
Cảm giác chạm của một cây grand piano thực thụ từ bàn phím PHA-50 (Progressive Hammer Action với escapement), kết hợp giữa gỗ và các vật liệu đúc cho cảm giác tuyệt vời và độ bền lâu dài.
Mang đến lựa chọn cao cấp của các âm thanh như đàn piano điện, string, organ, và synth, cùng với 30 đăng ký để lưu trữ các thiết lập âm thanh yêu thích, bao gồm các layer và split cho biểu diễn live.
Sử dụng công nghệ SuperNATURAL Piano Modeling mới nhất cho ra một âm thanh piano  phong phú hơn, chi tiết hơn.
Tăng cường các buổi biểu diễn với tính năng đệm đi kèm từ  ứng dụng Piano Partner 2 của Roland.
Mic input và các hiệu ứng vocal
Ứng dụng Piano Partner kết nối không dây qua Bluetooth với Smartphone, máy tính bảng
Bốn loa cho âm thanh mạnh mẽ và phong phú, lý tưởng cho các buổi biểu diễn trực tiếp.
Mượt mà, cabinet di động với thân đàn màu đen hoặc trắng.
Tương thích với pedal DP-10 Damper (bao gồm) hoặc RPU-3 Triple Pedal (tùy chọn)
Chân đứng tùy chọn KSC-90 và pedal KPD-90 mang tới dáng hình thanh lịch khi đặt trong ngôi nhà bạn.
Dimensions
Width: 1340mm
Depth: 390mm
Height: 136mm
Weight: 23.6KG
Keyboard
Number of Keys: 88
Key Material: Wood and Plastic Hybrid
Feel: Weighted with Escapement
Touch: Roland Ebony/Ivory Feel
Response: 100 Type Key Touch
Sound & Effects
Sound Generator: SuperNATURAL
Maximum Polyphony: Limitless (When Using Concert Piano, Ballad Piano, Mellow Piano, and Bright Piano Tones)
Other Maximum Polyphony: 384
Effects: Ambience, Modulation Speed (E Piano), Rotary Speaker Effect (Organ)
Microphone Effects: Compressor, Doubling, Echo
Equaliser: 3-Band
Temperament: 10 Types
Piano Designer: Lid, Key Off Noise, Hammer Noise, Duplex Scale, Full Scale String Resonance, Damper Resonance, Key Off Resonance, Cabinet Resonance, Soundboard Type, Damper Noise, Single Note Tuning, Single Note Volume, Single Note Character
Tones
Piano: 15
E. Piano: 16
Strings: 11
Organ: 15
Pad: 15
Drum Kits: 8
SFX Kit: 1
Other: 269
Functions
Keyboard Modes: Whole, Dual, Split
Master Tuning: 415.3–466.2Hz
Bluetooth: Version 3
MIDI Sheet Turning: Bluetooth Version 4
Metronome Adjustments: Tempo, Beat, Downbeat, Pattern, Volume, Tone
Transpose: Semitone Increments
Registrations: 30
Auto Off: Yes
Recording
Playable Software: Standard MIDI
Audio Files: WAV, MP3
Recordable Software: Standard MIDI Files
Note Storage Maximum: 70,000
Audio File: WAV, 44.1 kHz, 16-Bit Linear Format (Requires USB Flash Memory)
Internal Songs: 10
Mua đàn Piano điện Roland FP 90 ở đâu rẻ và uy tín tại Hồ Chí Minh,Đồng Nai,Hà Nội Đà Nẵng,Đaklak?
Piano Đồng Nai – Nhập khẩu phân phối đàn đầy đủ model và màu sắc nhập khẩu trực tiếp từ Japan.
---
Thông tin liên hệ:
Kho piano tại Đồng Nai
Địa chỉ: 47 Cây Xăng, Phú Túc, Định Quán, Đồng Nai.
Hotline: 0937 105 253
Showroom tại Hồ Chí Minh
Địa chỉ: 173 Đinh Tiên Hoàng, phường Đa Kao, Quận 1, Tp.HCM
Hotline: 0977 033 003
125 reviews for
Roland FP-90